6th International FRANZ LISZT Competition | Young Pianists
25 October - 5 November 2023
Category I born after 4 November 2009
Category II born from 4 November 2009 to 5 November 2005
1st Prize: Linda Yuan
2nd Prize: Puri Puengpipattrakul
2nd Prize: Pei Lin Oisin Pu
3rd Prize: Ziyu Shao

The Prize Winners of Category II:

1st Prize: Anna Avramidou
2nd Prize: Collins Tanujaya
3rd Prize: Ildikó Rozsonits
The Prize Winners of the Special Awards you can find here.

Congratulations!!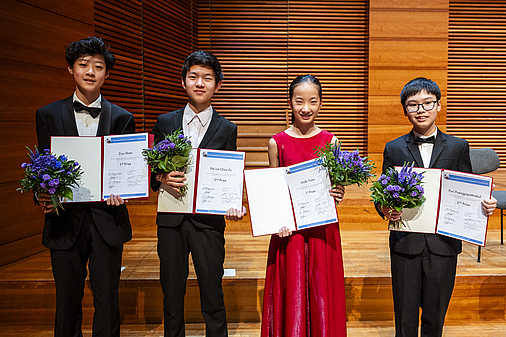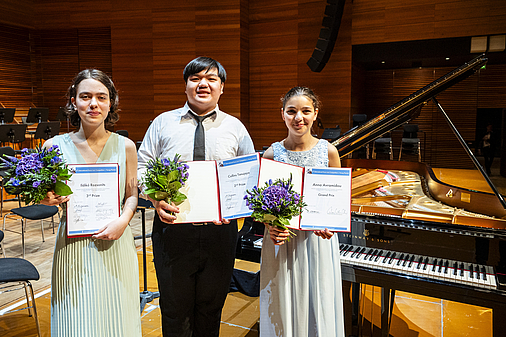 The latest competition at the University of Music FRANZ LISZT, the International FRANZ LISZT Piano Competition for Young Pianists, was brought into being in 2005. Similar to the LOUIS SPOHR Competition for Young Violinists, it aims to offer the next generation of talented instrumentalists an international platform. In Weimar, musicians from all over the world will be able to meet at eye level, compare their abilities, and learn from each other. Feedback from a top-level international jury helps them in this regard.

Franz Liszt, the competition's namesake, lived and taught in Weimar, first in the "Altenburg" (1848 to 1861) and then later in the old court nursery "Hofgärtnerei" (1869 to 1886). Every summer, he gathered a select group of young pianists from all over the world around him. He gave them free masterclasses and provided unforgettable inspiration. That great composer, pianist, conductor and visionary always strove to offer the next generation the best possible training conditions – by founding specialised music training institutions, amongst other things.

Like its "older brother", the International FRANZ LISZT Piano Competition Weimar-Bayreuth which also takes place in Weimar, the Competition for Young Pianists feels a duty to carry on Franz Liszt's ideals. By offering performance incentives in the form of prizes, the competition wants to help realise Liszt's ideal of the musician with a general education who always passes on her knowledge to the next generation.
Repertoire
Prizes
Jury
Participation Rules
Schedule
Participants
Contact
Competition Office
Hochschule für Musik FRANZ LISZT Weimar
International FRANZ LISZT Competition for Young Pianists
Platz der Demokratie 2/3, PF 2552
D-99406 Weimar

Fon +49 (0)3643-555 268
Fax +49 (0)3643-555 170

liszt-junior-wettbewerb(at)hfm-weimar.de


Promoter: University of Music FRANZ LISZT Weimar, Musikgymnasium Schloss Belvedere
Artistic directors: Grigory Gruzman
Head of organisation: Wiebke Eckardt
Participants' support: Annekathrin Knigge