Students and teachers are given the opportunity to produce a professional recording at the LISZT University's recording studio. The completely digital studio set-up can produce recordings of almost any ensemble. In addition to countless demo recordings for individual students' applications, the studio also regularly records the University's various ensembles.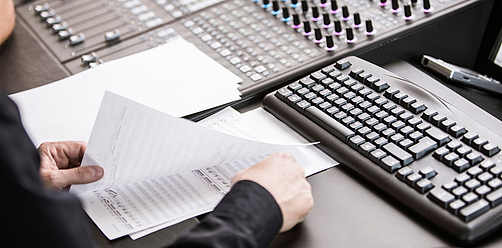 Die Studios und die Technik werden durch unsere Tonmeister betreut. Zudem gibt es im Festsaal Fürstenhaus sowie dem Saal Am Palais die Möglichkeit, selbstständig Tonmitschnitte von Konzerten zu machen. Hierzu stehen fest eingebaute Geräte zur Verfügung. Sollten wir einmal keinen Studiotermin anbieten können, haben registrierte Nutzer*innen der Hochschulbibliothek außerdem die Möglichkeit, Videokameras und mobile mp3-Recorder kostenfrei auszuleihen.

Produktionen vom Tonstudio
Bitte senden Sie keine formlosen Terminanfragen an einzelne Mitarbeitende. Wir bearbeiten Ihre Anfrage nur, wenn der vollständig ausgefüllte Antrag auf Studio-/ Medienproduktion im Briefkasten vor dem Studio oder im Postfach tonstudio(at)hfm-weimar.de eingegangen ist!
Studioproduktionen für Studierende (Demo-Band)
→ Antrag auf Studioproduktion (PDF)

Studierende haben die Möglichkeit, mit den Tonmeistern der Hochschule unter professionellen Bedingungen Audio- und Videoaufnahmen (zur Bewerbung bei einem Wettbewerb/ Probespiel, zu Demozwecken etc.) durchzuführen. Im zentralen Tonstudio im Fürstenhaus steht hierfür ein eigener Aufnahmeraum, der auch als Videostudio genutzt werden kann, zur Verfügung.
Für die Durchführung der Aufnahme ist es nötig, einen schriftlichen Antrag auf Studioproduktion (PDF) zu stellen und diesen vollständig ausgefüllt in den Briefkasten im Fürstenhaus einzuwerfen (2. OG/ Raum 211) oder digital an tonstudio(at)hfm-weimar.de zu senden. Den Antrag finden Sie auch im gesonderten Fach neben dem Briefkasten des Tonstudios.
Die Tonmeister setzen sich dann mit Ihnen zur Terminvereinbarung in Verbindung. Für die Aufnahme kann auch der Festsaal im Fürstenhaus reserviert werden. Die Reservierung wird von dem*der Antragsteller*in bei Nicolae Vezure angefragt.
Da die Kapazitäten begrenzt sind, bitten wir um Verständnis, wenn nicht alle Anträge berücksichtigt werden können. Den im laufenden Semester eingereichten Anträgen geht eine Semester- und Jahresplanung voraus, bei der zentrale Hochschulprojekte prioritär behandelt werden. Projekte, die Zeit und Kapazitäten des Tonstudios über mehrere Tage in Anspruch nehmen, müssen spätestens innerhalb der ersten beiden Wochen nach Beginn des jeweiligen Semesters angefragt werden.
Medienproduktionen mit dem Ziel der öffentlichen Zugänglichmachung
→ Antrag auf Medienproduktion (PDF)

Der YouTube-Kanal, abrufbar unter https://www.youtube.com/hfmFRANZLISZTweimar, stellt eine klingende Visitenkarte der Hochschule dar, indem er mit Hilfe ausgewählter Medienproduktionen herausragende Hochschulprojekte einem internationalen Publikum zugänglich macht. Die inhaltliche Verantwortung liegt bei der Vizepräsidentin für Künstlerische Praxis.
Eine Medienproduktion bindet sehr viele Ressourcen und ist in der Regel mit hohen (Lizenz)kosten verbunden. Daher werden normalerweise nur hochschulzentrale Projekte durch das Tonstudio mitgeschnitten und auf den YouTube-Kanal gestellt. Livestreams werden nur in Ausnahmefällen ermöglicht, beispielsweise für internationale Wettbewerbe.
Aber auch zu besonderen Anlässen stellt das Tonstudio Medienprodukte, wie z.B. Videos, vereinzelt auch Tonträger (CDs), mit dem Ziel her, diese zu veröffentlichen.
Wird eine Medienproduktion (Konzertmitschnitt, CD-Produktion, etc.) gewünscht, ist die Anfrage grundsätzlich über das Büro der Vizepräsidentin für Künstlerische Praxis mit dem Antrag auf Medienproduktion (PDF) und mindestens 6 Monate vor dem gewünschten Produktionsdatum zu stellen: amelie.braeumer(at)hfm-weimar.de.
Mit dem Antrag müssen das genaue Programm, die Namen der Mitwirkenden und eine Projektskizze vorliegen, damit zunächst der Kostenrahmen bei den Rechteinhaber*innen angefragt und anschließend alle für das entsprechende Vorhaben erforderlichen Rechte durch die*den Ansprechpartner*in für Urheber- und Nutzungsrechte eingeholt werden können. Bitte beachten Sie, dass Ihre aktive Mithilfe bei der Einholung der Rechte der Mitwirkenden unbedingt erforderlich ist.
Die Entscheidung, ob eine Medienproduktion realisiert werden kann, trifft die Vizepräsidentin in Absprache mit dem Leiter des Tonstudios und der*dem Ansprechpartner*in für Urheber- und Nutzungsrechte anhand folgender Kriterien:
Nutzen für die Studierenden der Hochschule
Kapazitäten der Mitarbeiter*innen im Tonstudio und der*dem Ansprechpartner*in für Urheber- und Nutzungsrechte
Prüfung der Rechte und Kosten/ Finanzierung

Wenn die Rechte vor dem Produktionsdatum nicht geklärt werden können, kann ein genehmigter Aufnahmeantrag widerrufen werden.
Genehmigte Videoproduktionen werden in der Regel nach der künstlerischen Freigabe durch die Vizepräsidentin auf YouTube für eine Lizenzdauer von 3 Jahren zugänglich gemacht. Anschließend werden sie vor dem Hintergrund der Medien(kosten)planung vom Kanal genommen. In der Regel besteht die Möglichkeit der Lizenzverlängerung durch eine private Kostenübernahme, sofern keine hochschuleigenen oder rechtlichen Gründe entgegenstehen. Bei Interesse wenden Sie sich gerne an die Assistentin der Vizepräsidentin für Künstlerische Praxis: amelie.braeumer(at)hfm-weimar.de.
What are the conditions for a recording at the studio?
Students of the University of Music FRANZ LISZT Weimar can use the recording studio free of charge. For ensembles, the majority of its members must be students of the LISZT University. The rights of the produced recordings remain with the University of Music FRANZ LISZT Weimar.

May the recordings be used for commercial publications?
The recordings can be publicised only after permission has been obtained from the LISZT University. By using the studio and its facilities, the student agrees to transfer his rights to the University of Music FRANZ LISZT Weimar. This makes the LISZT University the owner of the recording's rights.

May recordings be reproduced for promotional purposes?
The University of Music FRANZ LISZT Weimar grants performers the right to reproduce their recording for promotional purposes, up to a total number of 50 copies. Permission must be obtained from the LISZT University for the production of higher print runs; these are subject to licensing.

Can I ask the studio to record my Bachelor's, Master's, or diploma concert?
Concerts are generally not recorded by the studio. Exceptions are concerts of special prestige for the University of Music FRANZ LISZT Weimar, or of special archival interest. Any decisions about concert recordings are made by the Vice President for performance.

How can I arrange a recording date?
In order to arrange a recording date, please contact the assistant of the Vice President (Performance studies) well in advance. You must always be able to give us an idea of the duration of the planned production as well as the ensemble size.

Can the studio be rented out?
Yes, please get in touch.
Recording studio at the Fürstenhaus
Control room of 35m2 fitted with CANTUS | NEXUS mixing desk | Crossbar system
Separate recording room of 45m2 with Steinway C concert grand
Comprehensive set of microphones
Connection to the concert hall
MIDI-studio at the hochschulzentrum am horn
Control room fitted with ProTools HD-recording
Connection to numerous recording rooms
Studio at the Klostergebäude Am Palais
Control room fitted with Studer 962 mixing desk
Connection to the concert hall
Das Netzwerk Raumklang, ein überregional orientiertes, informelles Netzwerk aus Hochschulen und Forschungseinrichtungen, untersucht die Wellenfeldsynthese im Kontext anderer spatial–audio–Systeme und dient als Plattform zum Austausch für technische und klangästhetische Fragen.

Nähere Informationen zum Netzwerk finden Sie hier.