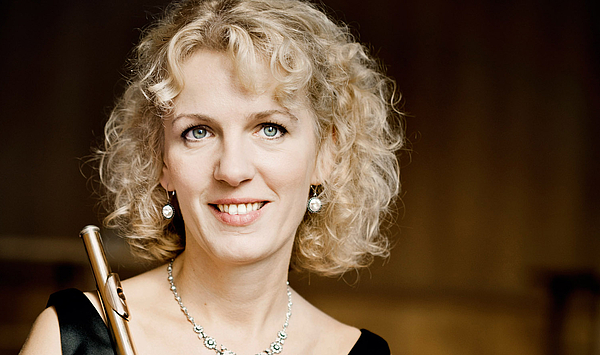 Prof. Anna Garzuly-Wahlgren | Foto: Irène Zandel
Die Kunst des Erzählens: Prof. Anna Garzuly-Wahlgren ist die neue Professorin für Flöte an der HfM Weimar
Die HfM Weimar hat Prof. Anna Garzuly-Wahlgren zur neuen Professorin für Flöte berufen. Die gebürtige Ungarin unterrichtet seit Beginn des Wintersemesters 2019/20 am Institut für Blasinstrumente und Schlagwerk.
"Über die Berufung nach Weimar freue ich mich unglaublich. Zugleich ist es eine große Herausforderung. Ich bin geehrt, Teil des Lebens dieses aufregenden, traditionsreichen und inspirierenden Kulturstandorts sein zu dürfen", so Prof. Anna Garzuly-Wahlgren, die die Nachfolge von Prof. Wally Hase angetreten hat. Diese war zum Wintersemester 2018/19 einem Ruf an die Universität für Musik und darstellende Kunst Wien gefolgt.
"Ich betrachte Musiker als Erzähler, jeder einzelne Ton und jede einzelne Regung sollte dazu da sein, um uns und den Zuhörer zu berühren. Die Kunst des Erzählens ist aber auch das reine Handwerk, das nüchtern betrachtet und ernsthaft erarbeitet werden muss. Dabei möchte ich helfen, also beim genauen Zuhören, Analysieren und Ausprobieren.
Mein Schwerpunkt ist es, die musikalische Persönlichkeitsfindung zu unterstützen und zur Entfaltung zu bringen – ich möchte junge Musikerinnen und Musiker mit fundierten Kenntnissen und Stilsicherheit ausstatten, um sie mit Integrität, Selbstvertrauen und Wagemut in die kommenden Abenteuer eines Musikerlebens zu schicken.
Mit jungen Leuten zu arbeiten erfüllt mich sehr. Es ist nicht nur die Zeit der musikalischen, sondern auch der persönlichen Entwicklung. Ihr Ideenreichtum, die Unverbrauchtheit, der Elan und Tatendrang inspirieren und spornen mich immer wieder an – und ich möchte sie begeistern, prägen und unterstützen in diesen wichtigen Jahren."
Die ungarische Flötistin Anna Garzuly-Wahlgren erhielt mit neun Jahren ihren ersten Flötenunterricht, später besuchte sie das Konservatorium der Musik in ihrer Heimatstadt Szombathely.
Anschließend studierte sie in Budapest an der Musikakademie Franz Liszt bei Lóránt Kovács (Kammermusik beim György Kurtág) und an der Musikhochschule München bei Paul Meisen. Dort erwarb sie ihr Künstlerisches Diplom und das Meisterklassen-Diplom. Parallel dazu studierte sie "Master of Music in Performance Major" an der Manhattan School of Music in New York bei Jeanne Baxtresser, wo sie ihr Studium mit Auszeichnung abschloss.
Schon während ihres Studiums gewann Anna Garzuly-Wahlgren zahlreiche Preise bei internationalen Flötenwettbewerben, wie Genf, Kobe, Scheveningen, Budapest und Markneukirchen. Sie war Mitglied im Gustav Mahler Jugendorchester unter Claudio Abbado und wurde mit dem Förderpreis der Stadt Ingolstadt ausgezeichnet.
Sie erhielt zahlreiche Stipendien, u.a. von Georg Soros, vom Rotary-Club München und das Staatliche Ungarische Eötvös-Stipendium. 1995 gewann sie den Wettbewerb East & West Artists. Im selben Jahr wurde sie stellvertretende Soloflötistin im Gewandhausorchester zu Leipzig, von 2008 bis 2017 kommissarische Soloflötistin.
Anna Garzuly-Wahlgren ist solistisch und kammermusikalisch aktiv. Sie spielte Solokonzerte unter Riccardo Chailly und Herbert Blomstedt mit dem Gewandhausorchester, mit dem Neuen Bachischen Collegium Musicum und dem Leipziger Kammerorchester, Kammermusikprojekte und Aufnahmen mit dem Sabine-Meyer-Ensemble, Linos Ensemble, im Klavierduo mit Imre Rohman, mit dem Gewandhausoktett und dem "armonia"-Bläserensemble.
Sie ist Mitbegründer der Leipziger Querflötenensembles "Quintessenz", das 2016 sein 20-jähriges Jubiläum feierte. Außerdem ist sie auf zahlreichen preisgekrönten Orchester- und Kammermusikaufnahmen zu hören.
Neben ihrer künstlerischen Tätigkeit widmet Anna Garzuly-Wahlgren sich aktiv und leidenschaftlich der pädagogischen Arbeit. Sie gibt regelmäßig Meisterkurse in Europa und Asien, war langjährige Mentorin der Mendelssohn-Orchesterakademie des Gewandhauses Leipzig und betreut seit Jahren die Vorbereitungen zu "Jugend Musiziert" in Leipzig.
Seit 2017 ist sie Professorin für Bläserkammermusik an der Musikhochschule Leipzig.

[15.10.2019]