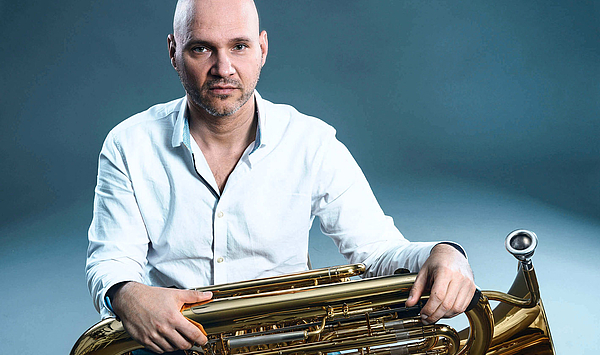 Roland Szentpáli | Photo: Balazs Szecsodi
Inspiring interactions: Applications are now open for the high-profile 62nd Weimar Master Classes in July 2022
It is precisely in these sad times that the peacemaking and unifying power of music is needed. This summer, the University of Music FRANZ LISZT Weimar invites you to its long-standing 62nd Weimar Master Classes.
From organ to percussion and Lied interpretation as well as composition and piano to string and wind instruments, this year's international courses will run from July 16 to 30, 2022.
Online registrations have been open since March 15 at www.hfm-weimar.de/masterclasses. The deadline for applications is May 15.
A total of 14 visiting professors as well as "ensemble recherche" will be teaching at the University of Music in Weimar during the last two weeks of July. Following a pre-selection process, around 130 young musicians are again expected to take part in the courses.
The intensive, open course activities will be supplemented by the popular orchestra studio with the Jena Philharmonic Orchestra, a variety of participant and guest professor concerts, debut concerts, and also a music film series.
There will be a reunion with Nora Chastain: this experienced artist and teacher will once again be coming to Weimar for a master class in violin performance. The second violin course will be led by Ingolf Turban, a welcome guest on international stages and professor in Munich.
Cellists can look forward to Troels Svane, who was already successful as a solo cellist in Copenhagen at the age of 18. Dorin Marc, whose artistic career has taken him from Romania to Italy to Germany, will teach the double bass.
In the field of wind instruments, there will be a master class with Sébastian Jacot, 1st solo flutist of the Leipzig Gewandhaus Orchestra. Matthias Bäcker, who has performed under Abbado and Thielemann and is a professor in Weimar, invites you to an oboe course. You can also look forward to lessons with tuba player Roland Szentpáli – an internationally sought-after soloist and also composer.
Additionally, there will be piano master classes with the veteran pedagogue and long-time Weimar guest professor Ferenc Rados, as well as with the Finnish pianist and Europe-wide guest soloist Antti Siirala. Percussion will be offered this summer by Weimar professor Markus Leoson, who began his career as a 20-year-old in Stockholm.
Furthermore, the Weimar Master Classes will be supplemented by the subject of Lied interpretation: their debut as guest professors in Weimar will be celebrated by London art song professor Richard Stokes together with one of the internationally leading Lied interpreter, Malcolm Martineau.
On top of that, the organist Daniel Roth, a multiple award-winning luminary, is coming to Weimar for an organ master class. Last but not least, the composer Michael Obst will offer a composition course together with the "ensemble recherche", which is renowned in the new music scene.
The courses will be complemented by a musical-artistic and physical-performative workshop with the Weimar choral conducting professor Kerstin Behnke in team with Andreas Hetmanek under the title "Embodied Expression – the body as a source and medium of artistic expressiveness".
The orchestra studio with the Jena Philharmonic Orchestra as a special feature in the range of courses is again under the proven direction of conductor Markus L. Frank.
The evening concerts offered by the Weimar Master Classes will be complemented, as usual, by a music film series in cooperation with the municipal cinema "mon ami".
First held in 1960 as a summer course, and the following year as the "International Music Seminar of the GDR in Weimar", the courses were for decades a window from the East to the West. After the fall of the Berlin Wall, the name was changed to the Weimar Master Classes.
For more information and registration: www.hfm-weimar.de/masterclasses

[24 March 2022]