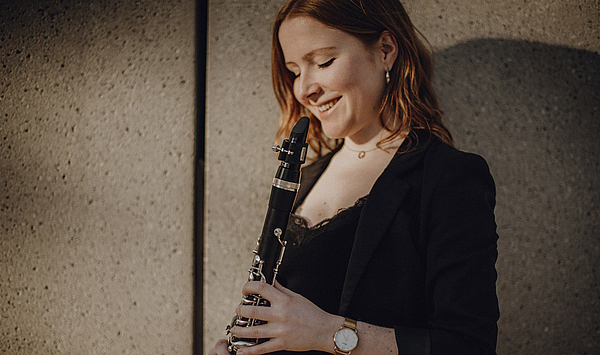 Tamara Steinmetz | Photo: Rebecca Meyer
Good air flow: Master's student Tamara Steinmetz becomes new solo clarinettist in the National Theatre Orchestra Mannheim
The lists of successes at the University of Music FRANZ LISZT Weimar are long, but directly entering a solo position professionally is always something particularly outstanding: Recently, clarinettist Tamara Steinmetz won her audition as the new principal clarinettist of the Mannheim National Theatre Orchestra. This master's student from the clarinet class of Prof. Thorsten Johanns in Weimar will take up her position in March 2022.
During the two-day audition, in addition to eight different orchestral parts, she had to perform excerpts from Mozart's Clarinet Concerto as well as Carl Maria von Weber's First Concerto as persuasively as possible. "I didn't expect to be successful at all, in the end everything went so quickly," says Tamara Steinmetz, who will initially begin a probationary year as solo clarinettist in March. "My excitement regarding the National Theatre in Mannheim and the tasks that will follow there is unbelievably huge."
The programme in Mannheim includes opera performances and concerts, including Weber's "Freischütz", Wagner's "Ring", Berlioz's Symphonie fantastique and Mahler's 2nd Symphony. Tamara Steinmetz expresses gratitude to her clarinet professor Thorsten Johanns. "He is a sensational clarinettist, artist and professor. With a lot of patience and great motivation, he accompanied me through my entire studies and always made sure that I had a good and well-kept air flow," says the 26-year-old.

"I am incredibly happy about this," says Prof. Thorsten Johanns for his part. "Tamara Steinmetz has spent her entire studies so far in my class, which fills me with particular pride. She has more than earned her career steps through her talent and tireless diligence!"
Tamara Steinmetz, born and raised in Saarland, learned to play the clarinet at the age of eight. She was a prize-winner at the national competition "Jugend musiziert" and a member of the Landesjugendsinfonieorchester Saar. In 2014 she began her clarinet studies in the class of Prof. Thorsten Johanns at the University of Music FRANZ LISZT in Weimar, which she is currently continuing in the master's programme. Numerous master classes with Ralph Manno, Martin Spangenberg and Johannes Peitz, among others, have complemented her training.
Since 2015 she has played regularly as a substitute in the Jena Philharmonic Orchestra and has worked as a substitute in various orchestras in Thuringia. In November 2016, she received a scholarship from the Hans and Eugenia Jütting Foundation and was an academician in the Staatskapelle Halle from 2018 to 2020.
Since 2021 she has been a scholarship holder in the chamber music academy "Villa Musica" Rhineland-Palatinate. From December 2021 to March 2022 she will play as an academist in the Bavarian Radio Symphony Orchestra before joining the Mannheim National Theatre Orchestra as the new principal clarinettist in March 2022.

[03.02.2022]