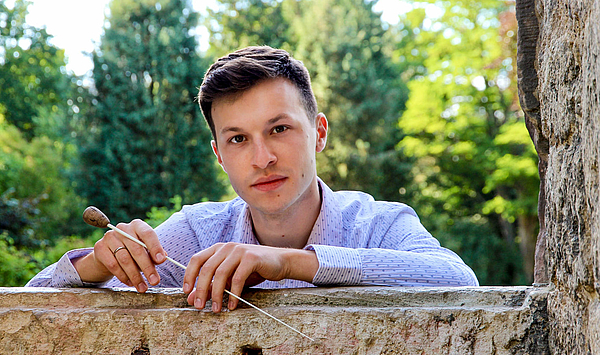 Friedrich Praetorius | Photo: Karima Albrecht
Weimar Conductors' Class: Friedrich Praetorius wins 1st Prize and Orchestra Prize at Conducting Competition in Almería
Only recently he won 1st prize at the conducting competition of the Central German Music Academies with the MDR Symphony Orchestra, and now he has followed suit: Weimar Master's student Friedrich Praetorius won 1st prize and the orchestra prize at the 1st International Conducting Competition at the University of Almería in Spain.
The 25-year-old conducting student from the class of Prof. Nicolás Pasquet and Prof. Ekhart Wycik at the University of Music FRANZ LISZT Weimar was thus able to prevail against 126 applicants from 26 countries. The 2nd prize went to Geoffrey Larsen, a student at the Jacobs School of Music at the University of Indiana in Bloomington (USA).
"It is a very special experience for me because it was the first international competition I ever took part in," says Friedrich Praetorius, who had to conduct works by Mozart, Grieg and Tchaikovsky, among others, in three judging rounds. "It's also a very honest award because in addition to the first prize, I also won the orchestra prize, which I actually consider even more valuable." The 1st prize comes with 4,000 euros as well as at least one follow-up concert.
"I am very happy for Friedrich Praetorius. He's really on a roll at the moment," says his professor Nicolás Pasquet with satisfaction. At the university competition "CAMPUS Conducting" in Frankfurt am Main in mid-November, Praetorius was also shortlisted among the twelve conductors who will be forwarded to "CAMPUS Conducting II", which will then take place in Cologne in January 2022. "It shows once again that consistent, focused work on one's own talent leads to success," says Pasquet.
Friedrich Praetorius was most recently a semi-finalist in the Siemens Conductors Scholarship for the Karajan Academy of the Berlin Philharmonic and has been supported by the Forum Conducting of the German Music Council since 2021. He was born in Lutherstadt Wittenberg in 1996 and received his first musical training as a member of the Thomanerchor in Leipzig.
He began his bachelor's degree in orchestral conducting at the University of Music FRANZ LISZT Weimar in 2015 with Prof. Nicolás Pasquet, Prof. Gunter Kahlert and Prof. Ekhart Wycik and graduated with top marks in spring 2021. Since 2017, Friedrich Praetorius has been the principal conductor of the Wendland Symphony Orchestra as well as a founding member and musical director of the association "Junge Mitteldeutsche Kammeroper e.V.".
Practical collaboration has already taken him to the MDR Symphony Orchestra, the Karajan Academy of the Berlin Philharmonic, the Staatskapelle Weimar, the Jena Philharmonic, the Stuttgart Philharmonic and the Orchestra Sinfonica di Milano Giuseppe Verdi. At the same time, he is currently continuing his master's degree in orchestral conducting in Weimar. He has received further impetus from master classes with Christian Thielemann, Johannes Schlaefli, Ole Kristian Ruud, Arthur Fagen, Stefan Blunier, Johannes Klumpp and Georg Christoph Biller.

[09.12.2021]