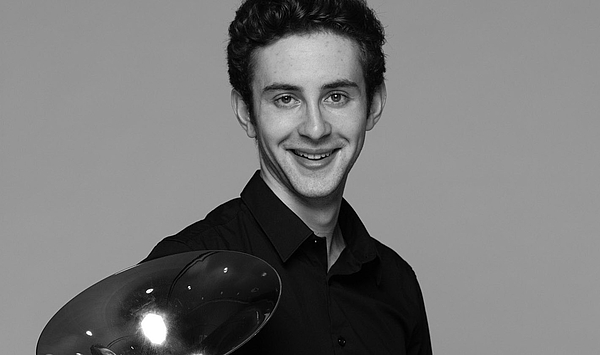 Emanuel Jean-Petit-Matile | Photo: Simon Hallstroem
Sound the Horns! Career successes from Prof. Jörg Brückner's horn class
Gioachino Rossini's call to 'sound the horns' in his choral piece "Auf, lasst die Hörner schallen" is a fitting heading for this summer's successes in Prof. Jörg Brückner's horn class at the university of music in Weimar. Several class students and alumni were successful in auditions for famous orchestras. Emanuel Jean-Petit-Matile has been working at the Staatskapelle Weimar as new solo horn player since the start of the current season. He follows on from his fellow student Vos.
In addition, Christina Hambach has successfully completed her second probationary year with the Munich philharmonic and is now under permanent contract with the orchestra.
David Küntzel was able to get to know the symphony orchestra in Göttingen during an internship. Daniel Schimmer also undertook an internship, working with the Frankfurt am Main theatre orchestra and was further involved in projects with the Gustav-Mahler youth orchestra and the youth orchestra "Jungen Deutschen Philharmonie".
Emanuel Jean-Petit-Matile gave his first concert as solo horn with the Weimar Staatskapelle on the 26th of September: He played works by Beethoven and Schumann in the first symphony concert of the new season under guest conductor Patrick Lange. His next performance will be on the 14th of November, playing Mahler's 7th Symphony conducted by Marc Piollet. "Of course, I was super happy after I won the audition and I'm really looking forward to the new challenges waiting for me," says in the 29-year-old.
"Musically, this new position is a step-up for me, with large-scale operas, concerts, and guest performances", adds the Swiss-born musician, who is grateful to Professor Jörg Brückner for his support. "He is a very important source of musical inspiration who always knew how to help me." Emanuel Jean-Petit-Matile completed his bachelor in 2020 in the horn class at Weimar's university of music. He already performed as a soloist with the philharmonic orchestra Lübeck in 2016 and many times with the Munich Philharmonic, the Staatskapelle Berlin, and the Bamberg symphony. He was also visiting 3rd horn with the Berlin Philharmonic.

[01.10.2021]