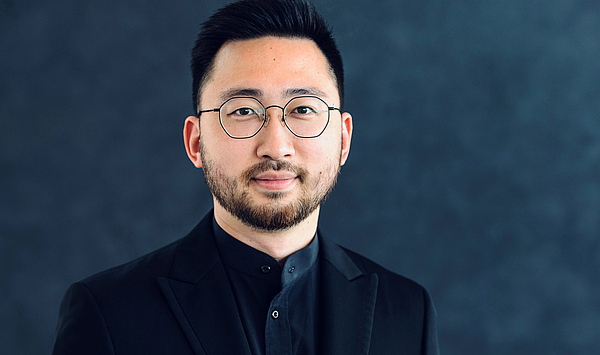 Chanmin Chung | Photo: Lutz Edelhoff
"Proper and crucial step": Conducting graduate Chanmin Chung becomes 1st Kapellmeister and Deputy General Music Director in Aachen
He was most recently 2nd Kapellmeister at the Theater Erfurt, and now his journey takes him west: South Korean Chanmin Chung, a conducting graduate of the University of Music FRANZ LISZT Weimar, will become the new 1st Kapellmeister and Deputy General Music Director at the Theater Aachen for the 2021/22 season.
At the podium of the Aachen Symphony Orchestra as the theater's concert and opera conductor, he will lead the premieres of Franz Lehár's "The Merry Widow" and the musical thriller "Sweeney Todd," among others.
"I'm thrilled about this great news, especially in these difficult times," says Chanmin Chung. In his audition, he had to go through three intensive rehearsals with the symphony orchestra and the singing ensemble of the Aachen Theater - and in the end came out ahead of the competition. "The entire musical department agreed and voted for me," Chung reports happily. The move to Aachen was a "proper and crucial step at just the right time".
The designated 1st Kapellmeister sends a big thank you to his former Weimar conducting professors Prof. Nicolás Pasquet and Prof. Ekhart Wycik as well as his colleagues from the Erfurt Theater. They had accompanied and supported his development.
In Erfurt, Chung conducted Orpheus and Eurydice, West Side Story, The Merry Widow, The Flying Dutchman and Carmen, among others. He also took over the musical direction of the new productions La Calisto, Fra Diavolo and Dead Man Walking, among others.
Born in Busan, South Korea in 1991, Chanmin Chung initially received a wide range of lessons on piano, violin, clarinet, trumpet and flute. At the "Seoul Arts High School" he majored in composition. In 2013, he began his studies at the University of Music FRANZ LISZT Weimar in the class of Prof. Nicolás Pasquet and Prof. Ekhart Wycik and also Prof. Ulrich Vogel.
After completing his master's degree in Weimar, Chanmin Chung has been studying orchestral conducting at the Hochschule für Musik und Theater "Felix Mendelssohn Bartholdy" Leipzig in the master class of Prof. Matthias Foremny since 2019.
He served as musical assistant to Johannes Braun at the Landesjugendsinfonieorchester Hessen in 2018 and to Johannes Klumpp at the Landesjugendorchester Berlin in 2017. In 2016, he assisted Johannes Pell in the production of Puccini's "La Bohème" at the Theater Nordhausen and Lorenzo Viotti at the Joven Orquesta Nacional de España (JONDE) in 2015.
In 2018, Chanmin Chung was accepted into the German Music Council's Conductors' Forum grant and participated in the Kritischen Orchester, where he was a finalist in 2018. Conducting master classes have led him to Jorma Panula, Christian Thielemann, Will Humburg, Marko Letonja, Cornelius Meister, Kristiina Poska, Gabriel Feltz and Enrico Delamboye, among others.

[25.08.2021]