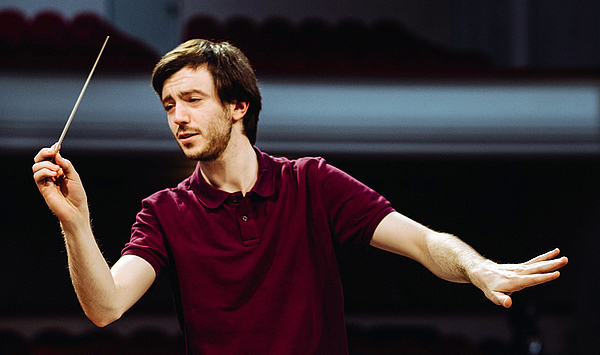 Martijn Dendievel | Photo: Wouter Maeckelberge
Weimar Conducting Student Martijn Dendievel Wins First "Conductors' Academy" with the Tonhalle Orchester Zurich
From the 21st to the 23rd of May, Martijn Dendievel took part in the final round of the renowned "Donatella Flick" conducting competition with the London Symphony Orchestra – as one of 20 young European conductors selected.
But the student of Prof. Nicolás Pasquet and Prof. Ekhart Wycik at the University of Music FRANZ LISZT Weimar can boast of another great success: He recently won the first "Conductors' Academy" with the Tonhalle Orchester Zurich.
The 26-year-old Belgian was one of six candidates selected by Paavo Järvi, musical director of the Tonhalle Orchester, from 150 applications.
After different course units spread over four days in Zurich, Martijn Dendievel was able to convince Maestro Järvi the most – and may now continue to work with him over the summer at the "Järvi Academy" master class series during the Pärnu Music Festival. Both the course and its closing concert in Zurich will be streamed live.
"It is a fantastic opportunity for him and an important enrichment of his artistic development", says his primary professor Nicolás Pasquet happily.
It had already become clear what Paavo Järvi valued the most during piano rehearsals, says Martijn Dendievel: "Reduction, efficiency, and telling a story with the music instead of excesses, ineffectiveness, and organisational beat-keeping." Working with pieces by Mozart, Brahms, Debussy and Stravinsky, Järvi taught this in a relaxed atmosphere, "but charmingly and with humour. He never talked down to us", says Dendievel.
Martijn Dendievel was born in Belgian, 1995. He is currently Assistant Conductor with the Symfonieorkest Vlaanderen and enjoys the support of the "Dirigentenforum des Deutschen Musikrats" (the German Music Council's conducting panel). In 2018, he won 1st prize at the MDR conducting competition in Leipzig and in 2019, the 1st prize and Audience Favourite at the Louis-Spohr conducting competition in Kassel.
Martijn Dendievel learned the violin at a young age, then changed to cello. At 14, he was accepted as a junior student at the conservatorium in Brussels, where he completed a bachelor in music theory with honours.
In 2014, Martijn Dendievel started his degree in orchestral conducting at the University of Music FRANZ LISZT Weimar under Prof. Nicolás Pasquet and Prof. Ekhart Wycik. Parallel to this, he took master classes with Bernard Haitink, Christian Thielemann and Iván Fischer. He has been a guest with the Belgischen Nationalorchester, the Jenaer Philharmonic, and the Staatskapelle Weimar.
He has also conducted the Royal Concertgebouw Orchestra, the Antwerp Symphony Orchestra and the Bremer Philharmonic. In December 2019, he celebrated his debut as a conductor in the Concertgebouw Amsterdam with the Symfonieorkest Vlaanderen.
For more information see: www.martijndendievel.com

[20 May 2021]