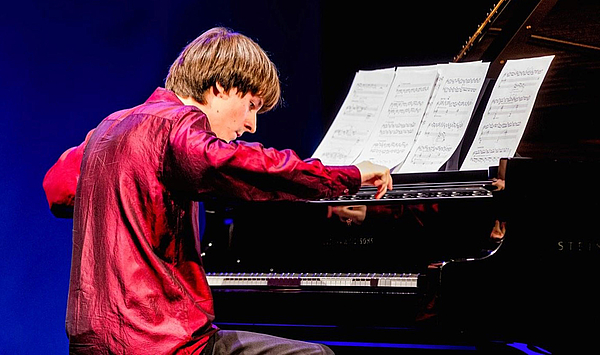 Adam Zsolt Szokolay | Photo: Andrea Felvegi
Weimar's Successful Run Continues: Ádám Zsolt Szokolay Wins Prestigious 1st Prize at the Bartók Piano Competition in Budapest
A student from the University of Music FRANZ LISZT Weimar has once again drawn international attention: Recently, Ádám Zsolt Szokolay won 1st prize at the International Bartók Piano Competition 2019 as part of the "Bartók World Competition and Festival" in Budapest.

The 30,000 Euro 1st Prize is one of the world's most lucrative competition prizes. It was a particular pleasure for the 23-year-old Hungarian bachelor student, from Prof. Grigory Gruzman's piano class in Weimar, to be able to earn this renown prize in his city of birth.
"The International Bartók Competition is equivalent to the Chopin Competition in Warsaw, the Hamamatsu Competition in Japan, or the Queen Elizabeth Competition in Brussels, in terms of renown and level. World class!" says Szokolay's teacher Prof. Grigory Gruzman from the University of Music in Weimar excitedly.

"The name Bartók stands for Hungary's greatest music. To receive the prize in honour of his name is a wonderful success one can look back on with joy and pride."
After the video preliminaries, the nine-person international jury invited a total of 28 participants to Budapest from all over the world. Participants played for the prize at the Franz-Liszt Music Academy in Budapest over four judging rounds between the 8th and the 15th of September.

Ádám Zsolt Szokolay performed works by Joseph Haydn, Béla Bartók, Franz Liszt and Claude Debussy – and in the finals, Bartók's Piano Concerto No. 1 with the Hungarian Philharmonic Orchestra under the direction of Zsolt Hamar.
Ádám Zsolt Szokolay began to play piano at the age of four. When he was eight years old, he started in the preparation classes at the Franz-Liszt Academy of Music in Budapest. In 2015, he started studying at the conservatorium Bard College in New York under Peter Serkin. He has been a student at the University of Music FRANZ LISZT Weimar in Prof. Grigory Gruzman's class since 2018.

He has also taken master classes with Ferenc Rados, Zoltán Kocsis, Imre Rohmann, Claudio Martinez-Mehner, Mikhail Voskresensky, and Richard Goode. His uncle, pianist and professor for piano in Weimar Balázs Szokolay, has been a mentor to him and has supported his musical career since childhood.
Ádám Zsolt Szokolay has won numerous international piano competitions, including the Carl Filtsch Competition, the Ferenczy György Competition, the Yamaha Competition for Young Artists, and the Stecher & Horowitz Competition in New York.

He has been honoured with the Bíró Sári prize in Hungary and received the Annie Fischer scholarship. With fellow students at Bard College, he founded his own ensemble in 2017 and performed Sergei Rachmaninoff's 2nd Piano Concerto as well as Rhapsody in Blue by George Gershwin.