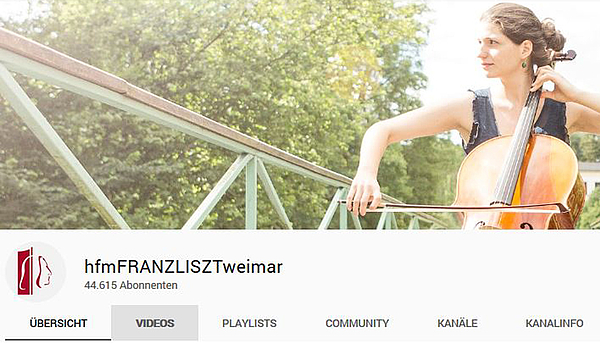 Made it to the world-wide TOP 50: The YouTube channel of the University of Music FRANZ LISZT Weimar is the only German university to reach the top of the global hit list
The University of Music FRANZ LISZT Weimar is the only German university to have cracked the global TOP 200 most popular channels. Presently, it is ranked number 47 with more than 44,000 subscribers, according to "uniRank" in Sydney (Australia). The study compares more than 7,500 university channels world-wide. Stanford University (USA) occupies first place with more than 921,000 subscribers, followed by Harvard University with more than 901,000 subscribers. The first music university in the global comparison is the Juilliard School (USA) with just over 50,000 subscribers, currently ranked number 38.
In February 2011, the Weimar Music University went online with its YouTube channel, in order to be able to show the results of its successful teaching programme world-wide. From the very beginning, only professionally produced videos were published. In the meantime, over 150 videos of outstanding university events have been uploaded and have received more than 17 million clicks. The average viewing time is about 10 minutes, and altogether, the global audience has enjoyed almost three million hours of music on this channel.
Three of the university's own HD cameras, augmented by additional cameras depending on the type of event, offer multi-perspective, high-resolution video enjoyment online. The selection includes recordings of symphony orchestra concerts and the international competitions held by the university, masterclasses and other nationally relevant events, as well as recitals by the centre for the highly gifted. The absolute champion among the classical concert recordings is Béla Bartók's "Concerto for Orchestra", with more than 1.3 million clicks and counting.
The spectrum of the channel encompasses the symphonic, chamber music and solo recital genres, extending to performances of traditional Afghan, Tanzanian or Turkish music. The music videos are supplemented by interviews and features, including reports on Maestros Marek Janowski and Christian Thielemann rehearsing with the university orchestra.

Go to the channel: www.youtube.com/hfmfranzlisztweimar
Ranking source: https://www.4icu.org/top-universities-youtube/

[16 May, 2019]