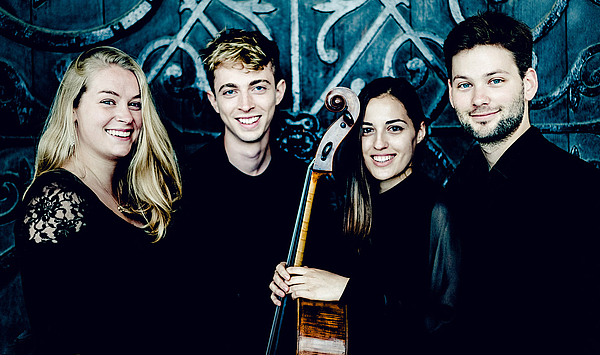 Barbican Quartet | Foto: Andrej Grilc
Debüt bei den Meisterkursen: Das Londoner "Barbican Quartet" spielt Streichquartette von Mozart, Britten und Brahms
In der Debüt-Reihe im Rahmen der 61. Weimarer Meisterkurse präsentiert sich das an der Guildhall School of Music and Drama in London gegründete "Barbican Quartet". Das Quartett gewann im Jahr 2019 den 1. Preis beim 8. Internationalen JOSEPH JOACHIM Kammermusik Wettbewerb an der Hochschule für Musik FRANZ LISZT Weimar.
Auf dem Programm ihres Konzerts am Mittwoch, 28. Juli um 19:30 Uhr im Weimarer Schießhaus stehen Streichquartette von Wolfgang Amadeus Mozart, Benjamin Britten und Johannes Brahms.
Eintrittskarten zu 15 Euro, ermäßigt 10 Euro, gibt es bei der Tourist-Information Weimar sowie an der Abendkasse.
Im Anschluss laden die Weimarer Meisterkurse zum Abschluss der Musikfilm-Reihe in Kooperation mit dem mon ami um 21:00 Uhr in das Kommunale Kino mon ami ein.
Gezeigt wird der Film "Miles Davis: Birth of the cool", der von Leben und Karriere eines musikalischen Ausnahmetalents und einer kulturellen Ikone erzählt, eines wahren Visionärs, der in kein Schema passt. Zentrales Motto von Miles Davis' Leben war die stete Entschlossenheit, Grenzen zu sprengen und nach eigenen Regeln zu leben. Eintrittskarten zu 6 Euro, ermäßigt 5 Euro, gibt es an der Kinokasse.
Das Barbican Quartet studiert aktuell bei Günter Pichler an der Reina Sofia String Quartet Academy in Madrid und erhält Unterricht von Mitgliedern des Belcea Quartet. Das vielversprechende Quartett hat in kürzester Zeit eine bemerkenswerte internationale Karriere gemacht.
Kritikerstimmen lobten es für "Geschmack, Kameradschaft und beherzten Zugriff" (The Times) sowie für eine "strahlende und ungewöhnlich direkte Interpretation" (The Telegraph).
Im Jahr 2016 wurde das Quartett als "Park Lane Group Artists" ausgezeichnet, 2017 gaben die vier Musiker*innen ihr Debüt in der renommierten Wigmore Hall in London – in Folge ihres Gewinns des "Maisie Lewis Award".
2018 gewannen sie den "Saint Martin in the Fields Chamber Music Competition" und wurden mit dem "Albert and Eugenie Frost Prize" der Royal Philharmonic Society geehrt. 2020 folgte die Ernennung zu "Young Artists in the St John Smith's Square Scheme".
Das Barbican Quartet ist bereits auf Festivals der Montreal International String Quartet Academy, dem IMS Prussia Cove sowie auch dem Harmos Festival in Portugal aufgetreten. 2017 waren die Künstler*innen Artists in Residence in Aldeburgh. Ihre Konzerte wurden auf BBC Radio 3 unter anderem im Rahmen der BBC Proms übertragen.

[27.07.2021]