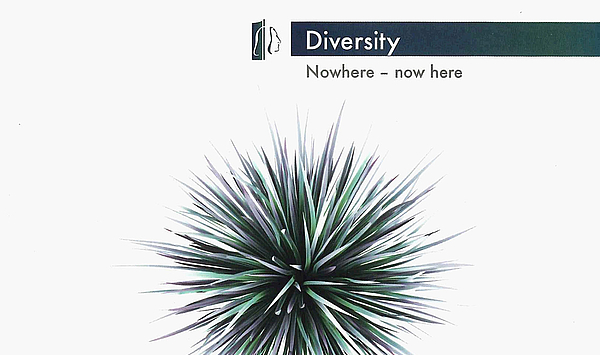 Gestaltung: Dipl.-Des. Susanne Tutein
Räume für die Fantasie: Hochschul-CD "Diversity" präsentiert neue Songs aus dem Bereich Jazz und Improvisierter Gesang
Der englische Begriff "Diversity" wird meist mit "Vielfalt" übersetzt – ist jedoch noch viel weitreichender: Er bezeichnet den wertschätzenden, bewussten und respektvollen Umgang mit Verschiedenheit und Individualität in unserer Gesellschaft.
Die Hochschule für Musik FRANZ LISZT Weimar versteht ihre Internationalität auch als ein Bekenntnis zur Vielfalt. Und so ist es naheliegend, dass die neue Hochschul-CD aus dem Bereich Jazz und Improvisierter Gesang den Titel "Diversity" trägt.
Auf der vom Tonstudio der Hochschule nach aktuellen Standards der Studiotechnik produzierten CD versammeln sich acht Songs, die unter der Federführung der Professoren für Improvisierten Gesang, Jeff Cascaro und Michael Schiefel, entstanden sind.
"Es sind Songs voller Leichtigkeit und Ironie, verträumt oder eindringlich voller Soul", erklärt der Weimarer Professor für die Geschichte des Jazz und der populären Musik, Martin Pfleiderer. "Melancholischer Folk, nur vom Klavier begleitet oder a cappella aufgefächert, steht neben surrealen Gesangsimprovisationen, die der Fantasie neue Räume eröffnen."
Die Songs tragen poetische Titel wie "Utopia", "Dream" oder "Sunflower Blues", andere heißen "Attraction of the unknown" oder "When I fall in love". Ergänzt werden sie um das Instrumentalstück "Spiekeroog" für Gitarre, Trompete, Synthesizer, Schlagzeug und Bass.
Das Schlussstück der CD ist das traditionelle slowakische Lied "Rosu dejte, o nebesa" in einem Arrangement von Winnie Brückner: Es singt das Vokalensemble Euphonics der Weimarer Musikhochschule.
"Wir erleben auf dieser CD eine Vielfalt der Stimmen und Stimmungen, Themen und Musikgenres, vokalen Ausdrucksweisen und Gefühle", so Prof. Pfleiderer. "Sie ist ein Zeugnis der musikalischen Imaginationskraft und des erstaunlichen künstlerischen Selbstvertrauens der jungen Musikerinnen und Musiker."
Interessierte können ein kostenloses Freiexemplar unter marketing@hfm-weimar.de bestellen (solange der Vorrat reicht).