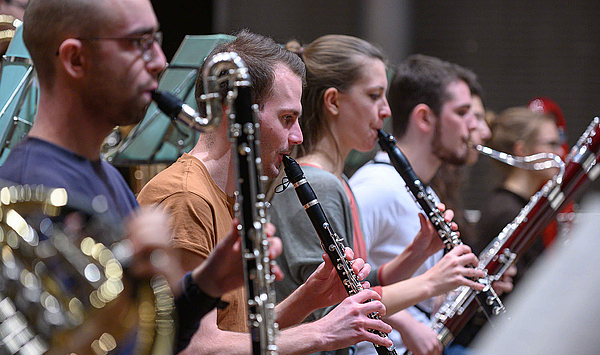 Foto: Maik Schuck
Liebesbrief aus Australien: Hochschulorchester spielt Europäische Erstaufführung des Oboenkonzerts von Nigel Westlake
Einen "Liebesbrief an die australische Wildnis" nennt der Komponist Nigel Westlake sein Oboenkonzert "Spirit of the Wild". Als Europäische Erstaufführung erklingt das Konzert im Rahmen des Sinfoniekonzerts des Orchesters der Hochschule für Musik FRANZ LISZT Weimar am Donnerstag, 30. Januar um 19:30 Uhr in der Weimarhalle.

Solistin ist die Oboistin Fanny Kloevekorn, die Leitung des Orchesters. übernimmt Prof. Nicolás Pasquet. Seine Inspiration bezieht das Konzert aus einer weitgehend unberührten Landschaft an der Südwestküste Tasmaniens, die Jahrtausende lang Heimat eines Aborigines-Stammes war.
Die weiteren Werke des Abends sind Sergej Rachmaninows "Sinfonische Tänze" op. 45, die ursprünglich als Ballettmusik gedacht waren, sowie zu Beginn die berühmte "Feuervogel"-Suite von Igor Strawinsky.

Die Strawinsky-Suite ist tatsächlich eine Ballettsuite in zwei Bildern nach dem gleichnamigen russischen Volksmärchen – und bildete den Auftakt zu Strawinskys langjähriger Kooperation mit dem Impresario Sergej Diaghilew und seiner Kompagnie "Ballets Russes".

Eintrittskarten zu 15 Euro, ermäßigt 10 Euro, gibt es bei der Tourist-Information Weimar sowie an der Abendkasse.
Die Solistin des Konzerts, Fanny Kloevekorn, wurde 1987 in Hamburg geboren. Bereits im Alter von sieben Jahren begann sie mit dem Oboenspiel. Während ihres Bachelor-Studiums in Lübeck wurde sie als Stipendiatin in die Stiftungen "Yehudi Menuhin-Live Music Now" und "Oscar-Vera-Ritter" aufgenommen. Außerdem wirkte sie als Solo-Oboistin im "Baltic Youth Philharmonic Orchestra" unter Dirigenten wie Kristjan und Neeme Järvi.

Im Jahr 2012 wechselte Fanny Kloevekorn in die Obenklasse von Prof. Matthias Bäcker an der Weimarer Musikhochschule, wo sie zunächst ihren Master machte. Mit ihrem Auftritt im Sinfoniekonzert schließt sie nun ihr Aufbaustudium zum "Konzertexamen" ab.
2014 und 2015 war Fanny Kloevekorn Solo-Oboistin des Schleswig-Holsteinischen Sinfonieorchesters und spielte als Solo-Oboistin in Projekten des "Iceland Symphony Orchestra" auf Island. 2017 gewann sie beim 4. Internationalen Barbirolli-Oboenwettbewerb in Großbritannien den "Tertis Foundation"-Preis und den "Faber Music Publishers"-Preis.

In der Spielzeit 2017/18 war sie Solo-Oboistin an der Estonian National Oper in Tallinn. Seit dem Sommer 2018 ist Fanny Kloevekorn Solo-Oboistin im Philharmonischen Orchester Hagen.

[14.01.2020]