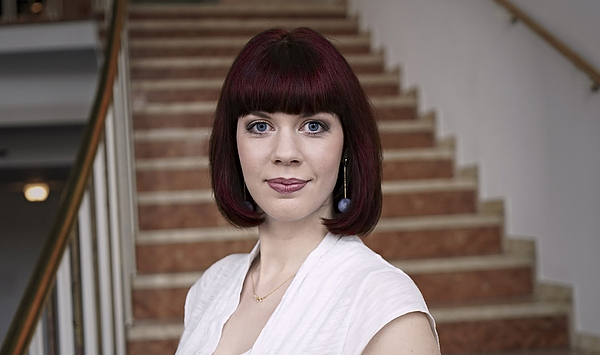 Catriona Morison | Foto: Claudia Scheer van Erp
"Singer of the world": Debütkonzert mit Gesangsabsolventin Catriona Morison im Rahmen der 60. Weimarer Meisterkurse
Ihr Debüt bei den Weimarer Meisterkursen gibt die Sängerin Catriona Morison. Die Mezzosopranistin gestaltet einen Liederabend am Dienstag, 16. Juli um 19:30 Uhr im Festsaal Fürstenhaus, gemeinsam mit Yuka Beppu am Klavier.

Die Absolventin der Weimarer Gesangsklasse von Prof. Siegfried Gohritz hatte 2017 den wohl größten und härtesten internationalen Gesangswettbewerb in Cardiff gewonnen und wurde "BBC Cardiff Singer of the World 2017". Sie konnte sich damit in einem internationalen Feld von 400 Bewerbern durchsetzen.
"Ich kann es noch nicht fassen. I'm speechless", hatte sich Prof. Gohritz kurz nach der Bekanntgabe des Preises geäußert: "Nach Auffassung der British Broadcasting Company und der Jury ist sie damit die weltbeste junge Sängerin."

Dieser Jungstar des Gesangs ist nun mit einem Liederabend in Weimar zu erleben: Auf dem romantischen Programm stehen Robert Schumanns Fünf Lieder nach Gedichten der Königin Maria Stuart, Gustav Mahlers Rückert-Lieder sowie Edward Elgars "Sea Pictures" op. 37. Eintrittskarten zu 15 Euro, ermäßigt 10 Euro, gibt es bei der Tourist-Information Weimar sowie an der Abendkasse.
Catriona Morison, geboren in Edinburgh (Schottland), studierte zunächst in Berlin und Glasgow, setzte dann ihr Studium am Weimarer Institut für Gesang | Musiktheater in der Klasse von Prof. Siegfried Gohritz fort. Sie konnte bereits zahlreiche Erfolge erringen, darunter den "Toonkunst Oratorio Prize `s-Hertogenbosch", war Finalistin des Hilde Zadek Gesangswettbewerbs Wien und Mitglied des Salzburg Young Artists Project.

Sie sang mit den Bamberger Symphonikern, bei den BBC Proms in der Royal Albert Hall und bei den Salzburger Osterfestspielen. Catriona Morison wurde 2015 Mitglied des Thüringer Opernstudios und in der Spielzeit 2016/17 Ensemblemitglied des Opernhauses Wuppertal. 2017 gewann sie als erste Britin den Hauptpreis sowie auch den Liedpreis beim internationalen Gesangswettbewerb "BBC Cardiff Singer of the World". Liederabende führten die Künstlerin bislang in mehrere britische und deutsche Städte und zum Edinburgh International Festival sowie jüngst als "BBC New Generation Artist" in die Wigmore Hall London.

[15.07.2019]