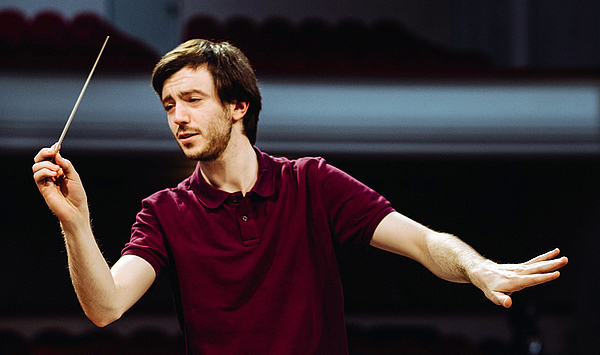 Martijn Dendievel | Foto: Wouter Maeckelberge
Weimarer Dirigentenschmiede: Louis-Spohr-Förderpreis und Publikumspreis für Martijn Dendievel beim 25. Internationalen Louis-Spohr-Wettbewerb
Beim 25. Internationalen Louis-Spohr-Wettbewerb in Kassel gewann Dirigierstudent Martijn Dendievel von der Hochschule für Musik FRANZ LISZT Weimar am Wochenende den mit 5.000 Euro dotierten Louis-Spohr-Förderpreis sowie auch den Publikumspreis. Im Jubiläumsjahr war der Wettbewerb von der Internationalen Louis-Spohr-Stiftung erstmals für Dirigentinnen und Dirigenten ausgeschrieben worden.

Ins Finale schaffte es auch ein weiterer Student der "Weimarer Dirigentenschmiede" aus der Klasse von Prof. Nicolás Pasquet und Prof. Ekhart Wycik: Alexander Letsch gewann neben dem Leipziger Studenten Davide Guarneri den mit 1.000 Euro dotierten Finalistenpreis.
Aus 30 Bewerbungen traf die Jury eine Vorauswahl und lud zwölf Dirigentinnen und Dirigenten aus Argentinien, Italien, Belgien und Deutschland zwischen 22 und 32 Jahren zum Louis-Spohr-Wettbewerb ein.

Während die ersten zwei Wertungsrunden mit der Kammerphilharmonie Frankfurt in der hessischen Landesmusikakademie in Schlitz stattfanden, wurde das Finale im Staatstheater Kassel mit dem Staatsorchester Kassel ausgetragen. Zu dirigieren galt es für den späteren Sieger Martijn Dendievel die Streicherserenade von Tschaikowsky, das Mendelssohn-Violinkonzert, Beethovens 1. Sinfonie– sowie im Finale u. a. den Kopfsatz aus der 2. Sinfonie von Johannes Brahms.
"Die Kammerphilharmonie und das Staatsorchester waren sehr gute, motivierte und freundliche Ensembles, die offen zugehört und alles wunschgemäß interpretiert haben", sagte der 23-jährige Preisträger Martijn Dendievel nach dem Wettbewerb dankbar.

Er zeigte sich erfreut darüber, dass neben der Jury-Entscheidung unter Vorsitz von GMD Francesco Angelico auch das Orchestervotum für die Preisvergabe relevant war. "Es ist schön, wenn das Orchester selbst sagt, was es von einem hält."
Martijn Dendievel ist ein belgischer Musiker, der schon früh den Wünsch verspürte, Dirigent zu werden. Nach ersten musikalischen Schritten auf der Geige wechselte er zum Violoncello und erhielt Unterricht an der Musikschule in Brügge. Dort lernte er außerdem Schlagzeug, Cembalo und Blockflöte.

Bereits im Alter von 14 Jahren wurde er dank einer Ausnahmeregelung am Königlichen Konservatorium in Brüssel aufgenommen, wo er ein Bachelorstudium in Musiktheorie mit Auszeichnung abschloss.
Im Jahr 2014 kam Martijn als Erasmus-Student an die Hochschule für Musik FRANZ LISZT in Weimar, und setzt dort bei Prof. Nicolas Pasquet und Prof. Ekhart Wycik seine Ausbildung als Dirigent fort. In Weimar initiierte er als künstlerischer Leiter mehrere eigene Projekte und wirkt regelmäßig als Cellist bei Kammermusiken und Orchesterkonzerten mit.

Besonders erfolgreich war sein "Festival for Minimal Music Weimar", welches er im Herbst 2016 anlässlich des 80. Geburtstages des amerikanischen Komponisten Steve Reich veranstaltete. Im gleichen Jahr feierte er sein Dirigierdebüt im Großen Saal des Brüsseler Palais des Beaux-Arts mit der Uraufführung von "Cities – Springs of Diversities" für 18 Chöre von Baudouin de Jaer.
Drei Mal wurde er von Bernard Haitink eingeladen, an seinem Meisterkurs mit den Lucerne Festival Strings teilzunehmen. Weiterhin erhielt er wichtige Impulse von Christian Thielemann, Simone Young und Edo de Waart. Seit 2016 ist er erster Gastdirigent beim Akademischen Orchester Halle und fungiert seit 2018 als Assistent-Dirigent beim Symfonieorkest Vlaanderen.

Er gastiert 2019 zudem beim National Orchestra of Belgium, 2020 bei den Hofern Symphonikern und bei der philharmonie zuidnederland und dirigierte bereits das Antwerp Symphony Orchestra, die Jenaer Philharmonie, die Thüringer Philharmonie Gotha-Eisenach sowie die Philharmonie Baden-Baden.
Im Dezember 2018 erhielt er den ersten Preis beim Dirigierwettbewerb der mitteldeutschen Musikhochschulen in Zusammenarbeit mit dem MDR-Sinfonieorchester. Die Hochschule für Musik FRANZ LISZT Weimar zeichnete ihm 2017 mit dem DAAD-Preis und 2019 mit dem Franz-Liszt-Preis aus.
Nähere Informationen: www.martijndendievel.com

[10.09.2019]