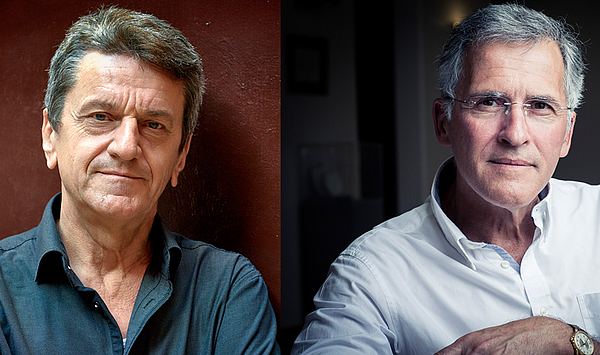 Professoren Johannes Schlaefli (Foto: Rolf Maeder) und Nicolás Pasquet (Foto: Guido Werner)
"Inspirierender Partner": Professoren Johannes Schlaefli und Nicolás Pasquet geben Dirigier-Meisterkurs mit dem MDR-Sinfonieorchester
Bereits seit mehr als zehn Jahren pflegt die Hochschule für Musik FRANZ LISZT Weimar einen engen Kontakt zum MDR Sinfonieorchester. Im Rahmen der 61. Weimarer Meisterkurse kooperieren beide nun bei einem gemeinsamen Dirigierkurs mit Gastprofessor Johannes Schlaefli aus Zürich und Prof. Nicolás Pasquet von der "Weimarer Dirigentenschmiede".
Vom 11. bis zum 17. Juli 2021 werden 15 vorab ausgewählte Teilnehmerinnen und Teilnehmer zunächst zu Klavierproben vom 11. bis 13. Juli nach Weimar eingeladen. Die besten acht Eleven dürfen dann vom 14. bis 17. Juli an den Orchesterproben im Sendesaal des MDR-Sinfonieorchesters in Leipzig teilnehmen.
Die Bewerbungsfrist für den Dirigier-Meisterkurs endet am 30. April. Einzureichen sind ein kurzer Lebenslauf sowie ein Video mit einem Programm eigener Wahl. Bei einer Nominierung für den Meisterkurs sind dann vier Werke aus einer größeren Auswahl von Ouvertüren und Sinfonien von Wolfgang Amadeus Mozart über Johannes Brahms bis zu Igor Strawinsky vorzubereiten.
Nähere Informationen zum Bewerbungsverfahren gibt es unter www.hfm-weimar.de/meisterkurse
Schon einmal haben die Professoren Johannes Schlaefli und Nicolás Pasquet in Zürich wechselseitig ihre Studierenden unterrichtet. "Daraus ist der Wunsch entstanden, unsere Arbeitsweisen auch einmal in einem größeren Meisterkurs mit einem hochkarätigen Orchester zusammenzuführen", erklärt Johannes Schlaefli, der sich auf seine Mentorenrolle schon freut: "Es ist ein spannender Balanceakt einerseits das Orchester als künstlerisch inspirierenden Partner zu sehen, der Vieles anbietet, und andererseits authentisch und mutig zu seinem eigenen künstlerischen Wesen zu stehen."
An seinen ersten Dirigier-Meisterkurs mit dem MDR-Sinfonieorchester im Rahmen der Weimarer Meisterkurse 2016 denkt Prof. Nicolás Pasquet gern zurück. "Es war ein wunderbarer Kurs, das Orchester hoch professionell und auf tollem Niveau." Er verweist auf weitere Kooperationsprojekte wie den alljährlichen Dirigierwettbewerb der Mitteldeutschen Musikhochschulen oder die Zusammenarbeit mit Studierenden der Weimarer Kompositions- und Instrumentalklassen.
Auch Pasquet freut sich schon auf den Weimarer Meisterkurs im Juli: "Wir rechnen mit einem hochkarätigen Bewerberfeld. Johannes Schlaefli und ich haben bei unterschiedlichen Ansätzen das gleiche Ziel vor Augen. Von dieser Diversität dürften alle Beteiligten, auch wir Lehrer, profitieren."
Johannes Schlaefli ist als Chefdirigent des Collegium Musicum Basel und Professor für Orchesterleitung an der Zürcher Hochschule der Künste ein international gefragter Dirigierlehrer. Er gibt Kurse zum Beispiel beim Aspen Music Festival in den USA, der Sibelius Akademie Helsinki oder beim City of Birmingham Symphony Orchestra.
Bei der Conducting Academy des Menuhin Festivals Gstaad arbeitet er im Sommer als "Head of teaching" – und hat als Gastprofessor an Musikhochschulen in Wien, Berlin, Leipzig, Hamburg oder Manchester unterrichtet. Eine regelmäßige Zusammenarbeit als Kursleiter und Juror verbindet ihn auch mit dem Dirigentenforum des Deutschen Musikrates.
Johannes Schlaefli stand an der Spitze des Kammerorchesters Serenata Basel und des Berner Kammerorchesters, bevor er von 2013 bis 2019 in Mannheim das Kurpfälzische Kammerorchester als Chefdirigent führte. Als Gastdirigent leitete er u.a. das Tonhalle Orchester Zürich, die Hong Kong Sinfonietta, das Indianapolis Chamber Orchestra, das Zürcher Kammerorchester, das Orchester Sao Paulo und das Münchner Rundfunkorchester.
Seit nunmehr 25 Jahren hat Nicolás Pasquet als Professor für Orchesterleitung einen maßgeblichen Anteil am internationalen Ruf der Dirigierausbildung an der Hochschule für Musik FRANZ LISZT Weimar – der so genannten "Weimarer Dirigentenschmiede". Der Chefdirigent des Hochschulorchesters studierte in Montevideo (Uruguay) Violine und Orchesterleitung. Später setzte er seine Studien in Stuttgart und Nürnberg fort.
Zweimal gewann Nicolás Pasquet die Bundesauswahl des Deutschen Musikrates für Dirigenten. 1987 erhielt er den 1. Preis beim Internationalen Dirigentenwettbewerb in Besançon (Frankreich). Positionen als Chefdirigent bzw. Generalmusikdirektor führten ihn an das Sinfonieorchester der Stadt Pécs in Ungarn, an die Neubrandenburger Philharmonie und an das Orchester des Landestheaters Coburg.
Nicolás Pasquet kann eine breite Diskographie mit den Labels Naxos, Marco Polo und Beyer vorweisen. Gegenwärtig ist er Chefdirigent des Landesjugendsinfonieorchesters Hessen. Seit vielen Jahren ist der Dirigent gefragter Leiter von nationalen und internationalen Meisterkursen im In- und Ausland sowie als Juror bei nationalen und internationalen Wettbewerben tätig. Dem Dirigentenforum des Deutschen Musikrates ist er langjährig eng verbunden.

[16.03.2021]