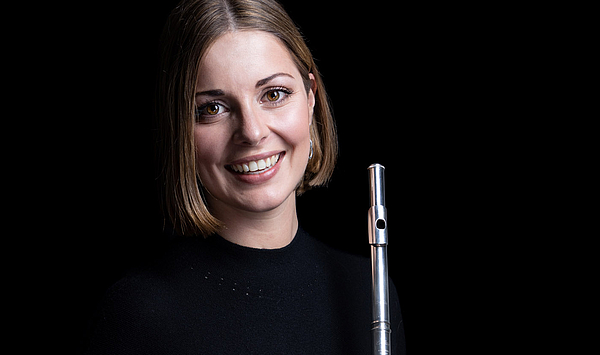 Cassie Slater | Foto: Cameron Jamieson
"Real test of fitness": Weimar student Cassandra Slater becomes new principal flutist of the Mecklenburgische Staatskapelle Schwerin
This is a career start made to measure: Shortly before the end of her studies at the University of Music FRANZ LISZT Weimar, Weimar student Cassandra Slater won the audition for the position of principal flutist of the Mecklenburgische Staatskapelle Schwerin.
This master's student from Prof. Anna Garzuly-Wahlgren's class will begin her full-time position and corresponding probationary period in the state capital of Mecklenburg-Vorpommern in August 2022.
"We are proud and happy and wish Cassie a great start in the orchestra," her principal professor Anna Garzuly-Wahlgren congratulates her. "It's a great joy to see someone graduate with a permanent position right away."
In the midst of the "Antonia" storm in Germany, Cassandra Slater had traveled to Schwerin at the end of February - and had to perform immediately in the pre-audition round without any warm-up time due to cancelled trains. "That was a real fitness test," the flutist says with a laugh.
The main audition the following day was also a real challenge, she says, with its four rounds including the Mozart concerto, an elective piece and orchestral parts. Now the flute student has made the leap into professional life at the drop of a hat: "I've always dreamed of playing in an orchestra in Europe," says the 26-year-old Australian.
"I can't believe it's really happened yet, and I'm really looking forward to this new opportunity!" She already knows that her first concerts will feature symphonies by Mendelssohn, Brahms and Bruckner.
Cassandra Slater, born and raised in Australia, began playing the flute at the age of ten. Her career highlights to date have included performing the Ibert Flute Concerto with the Tasmanian Symphony Orchestra, appearing with the Mahler Chamber Orchestra or at the Musica Viva Chamber Music Festival in Australia, guest appearances at the World Expo 2020 in Dubai, and tours of Europe and China as principal flutist with the Australian Youth Orchestra.
Cassandra Slater is currently studying in her fourth master's semester at the University of Music FRANZ LISZT Weimar in the class of Anna Garzuly-Wahlgren, supported by a scholarship from the German Academic Exchange Service (DAAD).
She regularly plays as a substitute in the Staatskapelle Weimar, the Thüringen Philharmonie Gotha-Eisenach, the Philharmonic Orchestra Altenburg-Gera and the symphony orchestras of Queensland, Adelaide and Auckland - and is also active in various ensembles in Melbourne, Sydney and Brisbane.
She has worked with internationally renowned flutists such as Denis Bouriakov, Michael Cox, Adam Walker, Emily Beynon, Paul-Edmund Davies and Wally Hase, and has played chamber music with the LA Philharmonic Wind Quintet, Stefan Dohr, Dimitri Ashkenazy and Marie-Luise Neunecker.

[14.04.2022]