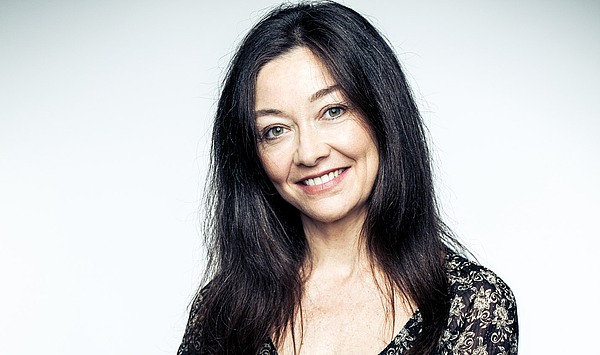 Lina Tur Bonet | Photo: Guido Werner
"A great delight": Lina Tur Bonet appointed as new professor for baroque violin and viola in Weimar
The Department of Early Music at the University of Music FRANZ LISZT Weimar is pleased to welcome an artistically and pedagogically outstanding reinforcement: the Spanish baroque violinist Lina Tur Bonet will become the new professor of baroque violin and baroque viola in Weimar as of April 2022. Her impressive resume reads like a "Who's Who" of the music scene: as a soloist, ensemble player and leader, and as a teacher, Lina Tur Bonet is familiar not only with her main field of early music, but also with musical epochs up to the modern era.
"Weimar as a city is an incredibly inspiring place, both culturally and musically, a wonderful setting for such a task," says Lina Tur Bonet, who previously taught as a professor in Zaragoza and Madrid. "It is an honour for me to be part of it now, and I embrace it with great delight, passion and enthusiasm," says the Spanish artist. "To accompany a student in the development of his or her artistic personality is fascinating and also a great responsibility. As professors, we have to give students objective information and, above all, criteria to find their own interpretation and also avoid unnecessary dogmas."
Lina Tur Bonet is internationally regarded as one of the most interesting and versatile violinists of her generation. She plays an unusually extensive repertoire spanning more than 400 years of music - and always on the original instruments of the time. She has a special fondness for chamber music, works by Johann Sebastian Bach as well as unknown works by famous composers as well as the performance practice of violinists of each era.
As a soloist with orchestra, she has performed works by Vivaldi, Pisendel, Bach, Mozart, Beethoven, Brahms, Mendelssohn, Ravel, Bartók, Chausson and Piazzolla. Her world premieres include old unknown works by Matteis, Vivaldi and Brunetti, but contemporary composers such as José María Sánchez-Verdú, Mauricio Sotelo or Josep Maria Guix have also written pieces for her. She was also invited to the Festival de Montréal to perform the complete works for solo violin by Johann Sebastian Bach, and has played the complete Biber Rosary Sonata cycle several times in Vienna, Tokyo and Madrid.
As a soloist, Lina Tur Bonet has performed at venues including Wigmore Hall London, Styriarte, San Diego Early Music Festival, Yale-Instrument Collection, Musashino Hall Tokyo, Usina de las Artes Buenos Aires, Vienna Konzerthaus, Potsdam Festival as well as in New York, Rome and Poland.
She has been invited as concertmaster by both baroque and modern orchestras, including Il Complesso Barocco, Orchestra of the Liceo de Barcelona, Clemencic Consort, Bach Consort Vienna, Hofkapelle Munich, Orchestra d'Auvergne and Orquesta Nacional de España. She has performed as first violin with orchestras such as Les Musiciens du Louvre, Les Arts Florissants, Mahler Chamber Orchestra and the Mozart Orchestra under the direction of conductors such as Claudio Abbado, Daniel Harding, John Eliot Gardiner, Marc Minkowski, William Christie, Fabio Biondi, Kent Nagano, Reinhard Goebel and Teodor Currentzis.

The Spanish artist has performed in chamber music ensembles together with artists such as Menahem Pressler, Christian Zacharias and Enrico Onofri. She also appears regularly as a conductor, leading the Montréal Festival Orchestra, Jerusalem Baroque Orchestra, Camerata Villa Musica and Pfalztheaterorchester Kaiserslautern, among others. Her interest in different forms of artistic expression have led her to collaborate with the Vienna Kabinetttheater Vienna and with the poet Antonio Colinas - as well as to projects in the field of video and performance.

Lina Tur Bonet is the founder and director of the "MUSIca ALcheMIca" ensemble. MUSIca ALcheMIca already enjoys an international reputation for its award-winning recordings. The ensemble has given guest performances in Japan, Germany, Russia, Spain, Austria, Bolivia, Chile, Peru and Panama, among others.

Lina Tur Bonet received her first music lessons from her father Antonio Tur at an early age. She studied violin at the conservatories of Freiburg and Vienna. As a student, she received numerous scholarships, including from the Alexander von Humboldt Foundation, the Villa Musica Mainz and the Austrian OeAD, and won international prizes such as the Premio Bonporti. A sought-after teacher in and outside Spain, she held the chair of violin at the Conservatory of Music in Zaragoza from 2005 to 2016 and most recently taught at the Escuela Reina Sofia in Madrid and at the ESMUC in Barcelona.

For more information: www.linaturbonet.com

[01.03.2022]