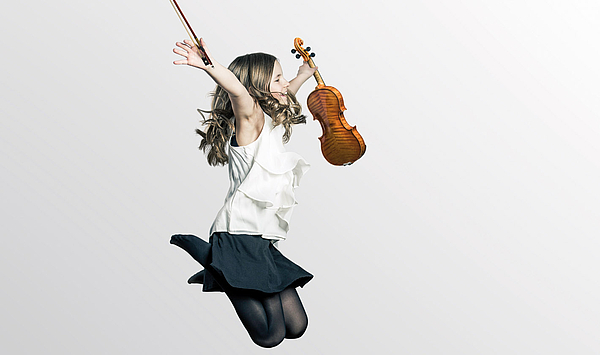 Photo: Guido Werner
Important career steppingstone: The 10th International LOUIS SPOHR Competition for Young Violinists in Weimar autumn 2022
At the last Spohr Competition in 2019, the then 13-year-old German Maya Wichert won 1st prize - impressively demonstrating the artistic excellence of young instrumentalists. The 10th International LOUIS SPOHR Competition for Young Violinists from the 26th of October to the 4th of November 2022 in Weimar will also serve as a career steppingstone.
The University of Music FRANZ LISZT Weimar is once again inviting the world's best young violinists to compete in three age categories - up to 14, up to 17 and up to 20 years of age - to be voted on by an international jury.
Depending on the age, the required pieces include Telemann fantasies, Bach partitas, Paganini caprices, a Spohr scherzo and a choice of Carmen fantasies by Sarasate or Waxman. In the final round of judging, the participants will play violin concertos by Mozart, Bruch or Mendelssohn Bartholdy with the university orchestra under the direction of Prof. Nicolás Pasquet, depending on the category.
There are prizes and special prizes worth a total of more than 17,000 euros. The prizes will be awarded by an international jury chaired by Weimar violin professor Dr. Friedemann Eichhorn. At the prize-winners' concert on the 4th of November 2022 at 7:30 pm in the Weimarhalle, the prize-winning participants will perform with the Jena Philharmonic Orchestra under the direction of Prof. Nicolás Pasquet. The closing date for applications for the Spohr Competition is the 10th of June 2022.
Since its foundation in the 1990s, the Weimar Spohr Competition has developed into one of the most internationally renowned events for young string players. Around 100 violinists from more than 20 countries worldwide compare their skills, meet like-minded people and make contacts and friendships. The competition has also become an important career steppingstone.
Former prize winners have gone on to be successful at the ARD Music Competition, the "Leopold Mozart" Competition or the Tchaikovsky Competition. Many hold important orchestral positions today, e.g. as concertmasters of the Staatskapelle Dresden, the Deutsche Oper am Rhein, the Tonhalle Orchestra Zurich or the Philharmonia Orchestra London.
Louis Spohr was the German Paganini, a true devil violinist. And not only that: Spohr (1784-1859) also composed like the wind, wrote nearly 300 works, many of which are on the music stands of the international violin world. The fifteen violin concertos, ten symphonies, thirty-six string quartets and numerous operas and oratorios by the versatile concertmaster, conductor, music festival organiser and pedagogue are an indispensable part of the repertoire. Spohr worked as a musician and bandmaster in Gotha, Erfurt and Nordhausen - and thus wrote an important chapter in Thuringian music history.
For more information: www.hfm-weimar.de/spohr

[21.12.2021]