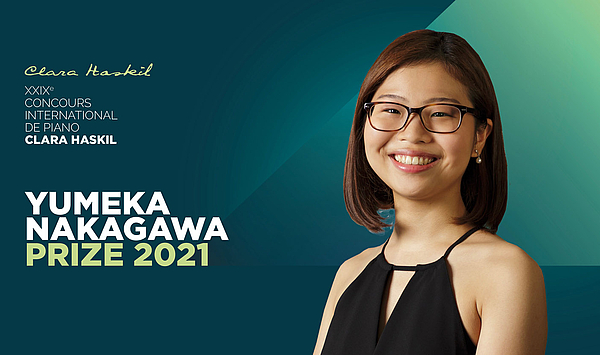 Successful Piano Class: Yumeka Nakagawa and Lovre Marušić win 1st and 2nd prize in Vevey and Cleveland
Prof. Grigory Gruzman's piano class at the University of Music FRANZ LISZT Weimar reports significant successes at international competitions. Although only in her second semester, bachelor student Yumeka Nakagawa recently won the 29th Clara-Haskil piano competition in Vevey (Switzerland). The highly gifted nineteen-year-old was able to win the 23,000 Euro main prize over 133 competitors from around the world.
Her fellow Weimar student, Lovre Marušić, currently undertaking a postgraduate performance degree, was able to crown his piano studies with second prize at the renown Cleveland International Piano Competition (USA) a few weeks ago. The twenty-eight-year-old Croatian played his way to a prize of 21,000 Euros with performances that included his interpretation of Beethoven's Piano Concerto Nr. 4 with the Cleveland Orchestra. Spanish pianist Martín García García won first place.
"For me, success at the Clara-Haskil competition marks the start of my career as a musician", says Yumeka Nakagawa. "It was such a joy to be able to play in front of an audience again". Lovre Marušić is also aware of the magnitude of his success: "The Cleveland competition is one of the most prestigious and important piano competitions in the world. This 'silver medal' is truly a dream come true!"
Over the years, Marušić's keyboard Professor, Grigory Gruzman, has become familiar with all his strengths and weaknesses and has offered him great support: "He can read be like a book."
Yumeka Nakagawa, born 2001 in Dusseldorf, has been playing piano since she was four. She was in the advanced youth programme at the Robert-Schumann University of Music Dusseldorf and attended the Purcell School of Music in England. She is currently studying at the University of Music FRANZ LISZT Weimar under Prof. Grigory Gruzman.
Yumeka Nakagawa has already won the piano competitions: Steinway (Hamburg), van Bremen (Dortmund), Rotary (Essen), Rachmaninov (Frankfurt am Main), Dvarionas (Vilnius), von Bülow (Meiningen), Liszt (Weimar) and Schumann (Dusseldorf). She has performed at the Wigmore Hall in London and as guest soloist with the Dusseldorf Symphony and the Jena Philharmonic.
Lovre Marušić, born 1992 in Omiš (Croatia), was already taking piano lessons at the Central Music School of the Tchaikovsky University of Music in Moscow at 14 years of age, where he later earned his master's degree. He is currently undertaking postgraduate performance studies in Prof. Grigory Gruzman's class at the University of Music in Weimar. Alongside 2nd prize in Cleveland, his successes at competitions include 1st prize at the Santa Cecilia International Competition in Porto (2018) and at the Isidor Bajić International Piano Competition (2016).
He has performed as guest soloist and chamber musician at numerous festivals and in concert halls across Europe, Russia, the Ukraine, Japan, and the USA. Lovre Marušić is already an assistant teacher at the piano department of the Zagreb Academy of Music and is artistic director of the Ostinato International Chamber Music Festival in his hometown of Omiš.

[14.09.2021]