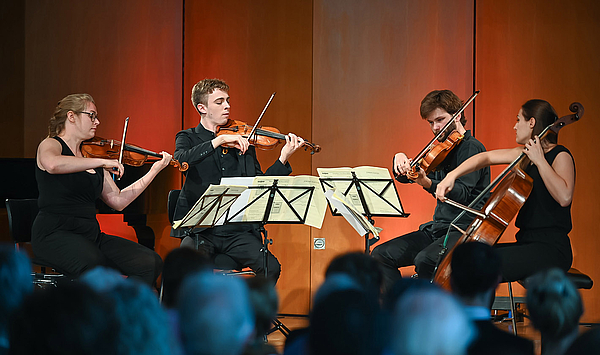 Barbican Quartet | Photo: Maik Schuck
In Sync: Registration for the 9th International JOSEPH JOACHIM Chamber Music Competition 2022 in Weimar Now Open
During the last competition in 2019, three string quartets pulled ahead of the pack: the Barbican Quartet (1st prize), the Marmen Quartet (2nd prize), and the Cosmos Quartet (3rd prize). Now the University of Music FRANZ LISZT Weimar invites participants to the 9th International JOSEPH JOACHIM Chamber Music Competition.
The competition will take place from the 3rd to the 10th of April 2022 in the Festival Hall at the "Fürstenhaus". Like the large Weimar FRANZ LISZT Piano Competition, this performance comparison is also a member of the "World Federation of International Music Competitions".
Registration is possible from now until the 17th of January 2022.
Ensembles in the form of String trios and string quartets as well as piano trios and piano quartets are warmly invited to participate in front of the renown international jury. The competition will take place in three rounds that offer a chance to practice the fine art of creating a balanced sound while providing a highly expressive and nuanced interpretation.
Under the chairmanship of Weimar Professor for Violin Anne-Kathrin Lindig, judges Miguel da Silva, Valentin Erben, Oleg Maisenberg, Vera Martínez Mehner, Angelika Merkle, Hartmut Rohde and Wolfgang Emanuel Schmidt will be on the judging panel.
To be eligible, ensembles may be of any nationality, but their members must have been born after the 3rd of April 1987. The average age of an ensemble's members may not exceed 32 as of the 3rd of April 2022. The repertoire requirements are eight different original works from Classic to Romantic, two works composed after 1900, as well as one work composed after 1970.
The best ensembles from the 9th International JOSEPH JOACHIM Chamber Music Competition can look forward to final prizes and special awards with a total value of over 17,000 Euros: 1st place is awarded with 10,000 Euros, 2nd place with 5,000 and 3rd place with 2,500.
For further information and registration see: www.hfm-weimar.de/joachim