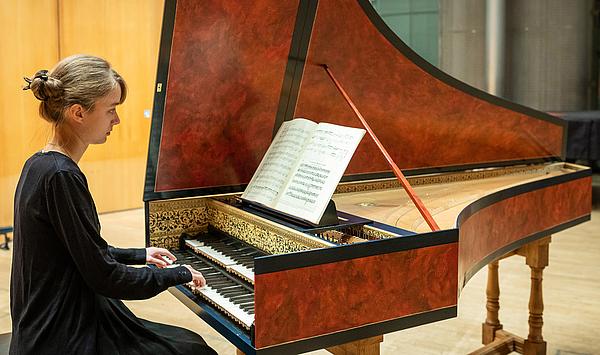 Eszter Szedmák is playing the new harpsichord | Photo: Thomas Müller
Instrumental Growth: New harpsichord in Flemish design added to instruments offered at the Department of Early Music
The Department of Early Music at the university of music in Weimar and the students in Prof. Bernhard Klapprott's harpsichord class, in particular, are excited about a weighty instrumental addition: After three years of anticipation, on the fifth of February, the department welcomed the addition of a double manual harpsichord built in the Flemish style (after Ruckers) of the famous harpsichord maker Dietrich Hein from Oldenburg.
The Ruckers family made an amazing number of harpsichords and virginals per year over several generations in the 16th and 17th centuries. Some of these were shipped from their workshop in Antwerp directly overseas.
The instruments were so highly esteemed well into the 18th century that people continued to use and adapt them to fit the musical zeitgeist of the period by extending their body and range. The practice, particularly popular in France, is known as "ravalement" and, naturally, it effected the instruments' tone.
In contrast to the new instruments built at that time, the Ruckers harpsichords which had undergone "ravalement" still retained their Flemish ground tones and somewhat pithier "older" sound to a certain extent. The university of music's new harpsichord with three registers on two manuals (2' x 8' and 1' x 4') is built with this extended design.
The Department of Early Music at the LISZT University has harpsichords in Flemish, German, French, and Italian design based on instruments from the 16th to the 18th centuries.
"The character of their sound and the way they play are very different, just like languages have their own unique sound quality," explains department director Prof. Bernhard Klapprott. "The choice of instruments which can provide a stylistically appropriate rendition of the music is a decisive source of inspiration for the harpsichordist."
For instance, a German harpsichord is characterised by stronger transparency and clarity (which suits Johann Sebastian Bach's music, for instance), whereas a French harpsichord from the 18th century has greater resonance (more appropriate for the music of François Couperin, for example). Such differentiation is also part of the harpsichord training offered at the Department of Early Music in the areas of solo and ensemble figured based playing.

[08.02.2021]