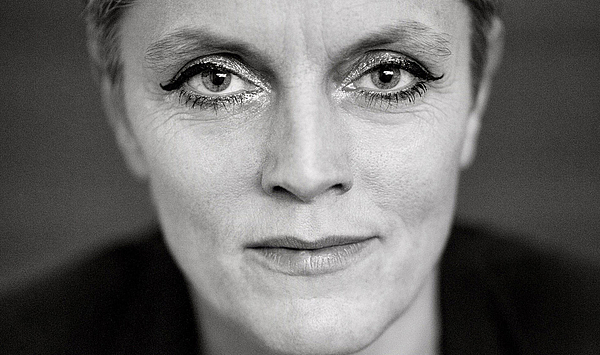 The body as the "ur-instrument": Meike Britt Hübner becomes new professor of music and movement education / eurhythmics at the University of Music FRANZ LISZT Weimar
Meike Britt Hübner became the new professor of music and movement education / eurhythmics at the University of Music FRANZ LISZT Weimar on the first of October. She follows on from Prof. Marianne Steffen-Wittek, who taught at the Department of Music Education and Church Music at the university in Weimar for more than 20 years prior to her retirement.
"I am so happy about starting here in Weimar: this magical town in the centre of Germany", says the newly appointed professor. Her first visit to Weimar was the rhythm symposium in 2004.
"It was put together by my fantastic and highly valued predecessor Prof. Marianne Steffen-Wittek. The wonderful lectures and workshops and the performance evening at the Studio Theatre Belvedere merged with the charming view of Weimar… When I saw a casual teaching position at the Department of Music Education in 2018, I immediately thought, of course I want to go there."
I considered myself lucky to be accepted as a member of staff and was eager to start working together, says the experienced expert for music and movement education.
"The university of music considers the connection between teaching and art to be of the highest relevance. Particularly through the training of arts-teaching, there is a growing chance to stop musical life and musical practice degenerating into an elitist pastime. Instead, I want to broaden the possibilities for music practice together with my students."
Her goals include raising awareness of the importance of the body as "ur-instrument" and working it into musical training intensively. This does not necessarily have to be in the form of dance, but above all in conscious movement.
The body is treated as a "material home" whose vitality is not only to be maintained, but also developed for greater possibilities of expression. Particularly when making music, conscious movement improves sound quality and refines non-verbal cues which form the majority of communication and impact real ensemble work.
This will also be a focus in her teaching: "melding the duality of body, mind, and spirit through movement and, in this way, strengthening music's sensuality: movement is that which makes perception (sensory experience being understood as the intense impressions which are required for true expression) possible. It is through movement that we sense our being and assure ourselves of our existence and presence. Movement refreshes."
Meike Britt Hübner, born 1969 in Hannover, originally trained in acting and later studied rhythmics at the University of Music and Theatre in in Hannover as well as Hamburg. She has worked as an actress and performer in theatres, such as the "Deutschen Schauspielhaus" Hamburg, the Münster City Theatre, and the Kampnagel Theatre Hamburg. In addition, she has worked as a host and speaker on radio and TV stations, including WDR, ffn and Hastings Media Music.
Her artistic and pedagogical experience and competence have a broad basis: the 51-year-old has taught music in schools, has worked with different age groups in day-care, kinder gardens, and music centres, and has worked with young people and seniors as well as refugees and migrants, people with and without disabilities, the homeless, and the gifted.
She has created and run projects with diverse groups in cooperation with different institutions, in the cross-over between music and movement. These include projects with the homeless shelter "Die Mission", the "Institut zur Frühförderung musikalisch Hochbegabter Hannover" (supporting young talent), the Richard Wagner Society, and the Hannover Opera.
She regularly runs professional development workshops, especially with a focus on "music-movement-scene-voice" in Germany and overseas. These include workshops with the "Berliner Festspielen", the "Akademie der kulturellen Bildung Remscheid" (academy for cultural studies and education), and the Jaques-Dalcroze Institute in Brussels etc.
She has been on the artistic staff at different universities and conservatoriums since 2006, both as a casual and guest lecturer. For instance, at the University of Music, Theatre, and Media Hannover, the University of Music and Performing Arts Graz, and the Central Conservatory of Music Beijing.
She has been a casual lecturer at the University of Music FRANZ LISZT Weimar since 2018, teaching MA students in elementary music pedagogy / rhythm and has already been active as stand-in professor for music and movement education / eurhythmics since 2020.

[05.10.2020]