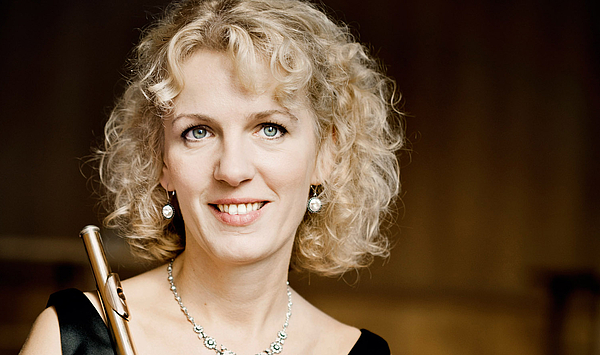 Prof. Anna Garzuly-Wahlgren | Photo: Irene Zandel
The Art of Story Telling: Prof. Anna Garzuly-Wahlgren is appointed new professor for flute at the University of Music FRANZ LISZT Weimar
The University of Music FRANZ LISZT Weimar has appointed Anna Garzuly-Wahlgren as the new professor for flute. Prof. Garzuly-Wahlgren, born in Hungary, has been teaching at the Department of Wind/Brass Instruments and Percussion since the start of the winter semester 2019/2020.

"I am so happy to be appointed in Weimar. At the same time, it is a great challenge. I am honoured to be a part of the life in this exciting and inspirational place so rich in tradition and culture" says Prof. Anna Garzuly-Wahlgren, who follows on from Prof. Wally Hase. Prof. Hase took a position at the University of Music and Performing Arts Vienna in the winter semester 2018/2019.

"I think of musicians as story tellers; every single tone and every single emotion is there to touch the listener. The art of storytelling is also pure craftsmanship which has to be viewed soberly and worked for seriously. I want to help with this: listening exactly, analysing, and testing different approaches. My focus lies on supporting the development of musical personality – I want to equip young musicians with sound knowledge and secure style in order to send them on their upcoming adventure of life as a musician with integrity, confidence, and daring.

I find working with young people very fulfilling. It is not just about musical development but the development of personality as well. The wealth of ideas they have, their freshness, motivation, and drive inspire and encourage me again and again – and I want to excite, influence, and support them during these important years."

The Hungarian flautist Anna Garzuly-Wahlgren took her first flute lesson when she was nine. She later attended the conservatorium of music in her hometown of Szombathely. She then studied in Budapest at the Academy of Music Franz Liszt under Lóránt Kovács (chamber music with György Kurtág) and at the University of Music Munich under Paul Meisen.

She received her artistic diploma and a Master of Arts there. Simultaneously, she undertook a Master of Music (performance major) at the Manhattan School of Music in New York under Jeanne Baxtresser, where she graduated with honours.

While still a student, Anna Garzuly-Wahlgren won numerous prizes at international flute competitions, including competitions in Geneva, Kobe, Scheveningen, Budapest, and Markneukirchen. She was a member of the Gustav Mahler Youth Orchestra under the direction of Claudio Abbado and was awarded the scholarship award of the city of Ingolstadt.

She has received many scholarships, including support from Georg Soros, the Rotary-Club Munich, and the Hungarian state scholarship Eötvös. In 1995, she won the competition East & West Artists. That same year, she became the substitute solo flautist with the Gewandhaus Orchestra Leipzig and, from 2008 to 2017, acting solo flautist.

Anna Garzuly-Wahlgren is active as a soloist and chamber musician. She has played solo concerts with the Gewandhaus Orchestra under the direction of Riccardo Chailly and Herbert Blomstedt, with the Neuen Bachischen Collegium Musicum, and the Leipzig Chamber Orchestra.

She has done chamber music projects and recordings with the Sabine-Meyer-Ensemble, Linos Ensemble, Imre Rohman on the piano, with the Gewandhaus Octet, and the wind ensemble "Armonia". She is co-founder of the Leipzig flute ensemble "Quentessenz" which celebrated its 20th anniversary in 2016. She can also be heard on numerous prize-winning orchestral and chamber music recordings.

Alongside her artistic work, Anna Garzuly-Wahlgren passionately dedicates herself to teaching. She regularly offers master classes in Europe and Asia, was a mentor at the Mendelssohn Orchestra Academy at the Gewandhaus Leipzig for a long time and has been supervising the preparations for "Jugend Musiziert" in Leipzig for years. She has been a professor for wind chamber music at the University of Music Leipzig since 2017.