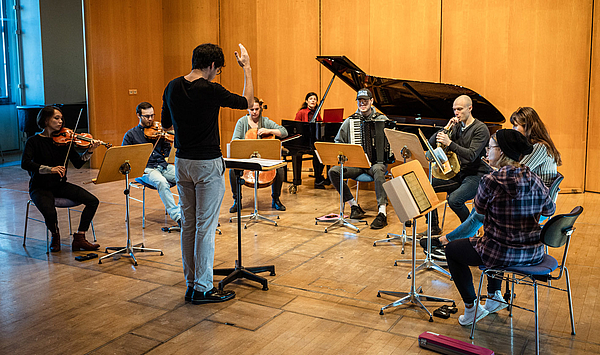 Oktettprobe im Festsaal Fürstenhaus | Foto: Thomas Müller
Weimar – New York: Uraufführungen beim Abschlusskonzert des Austauschprojekts mit der Manhattan School of Music
Seit Montag wurden täglich fünf bis sechs Stunden lang geprobt, nun präsentieren die Mitwirkenden des Austauschprojekts der Weimarer Musikhochschule und der Manhattan School of Music New York die "unerhörten" Ergebnisse.
Beim Abschlusskonzert "oNSET Collective" werden am Samstag, 13. November 2021 um 19:30 Uhr im Festsaal Fürstenhaus die neuen Kompositionen zur Uraufführung gelangen. Es spielt ein ungewöhnliches Oktett (u.a. mit Horn und Akkordeon) aus Instrumentalstudierenden beider Musikhochschulen unter der Leitung des Dirigierstudenten Fargas i Castells
Es ertönen eigens für dieses Projekt neu komponierte Werke der Weimarer Kompositionsstudierenden Jongsung Oh (Rondo for 8 Players), Tianwei Zhu (Days with Moadou) und Soyoung Kim (Traum-A) sowie der New Yorker Kompositionsstudierenden Wookhyun Lacey Kwon (Happening), Yule Han (hɔhib) und William Bolles-Beaven (Studies in Space: Nos. 2 & 3).
Ergänzt wird das Programm durch das Stück "When Summer Sang" von Ursula Mamlok.
Tags darauf, am Sonntag, 14. November, reisen die deutschen und US-amerikanischen Studierenden weiter nach Magdeburg, um dort einen Workshop für die Mitglieder des Ensembles Junge Musik Sachsen-Anhalt und die Komponistenklasse am Konservatorium Magdeburg zu geben – gekrönt von einem Konzert um 17:00 Uhr im Gesellschaftshaus Magdeburg.
Im April 2022 soll ein Flug die deutschen Studierenden zum Gegenbesuch dann nach New York führen: Dort ist u.a. ein Konzert in der Adès Recital Hall der Manhattan School of Music geplant. Dieses Initialprojekt soll den Grundstein für eine längerfristige, regelmäßige Zusammenarbeit zwischen der Weimarer und der New Yorker Hochschule legen.
Der Eintritt zum Konzert ist frei, es gilt die 3G-plus-Regel.

[12.11.2021]